About Burgan Real Estate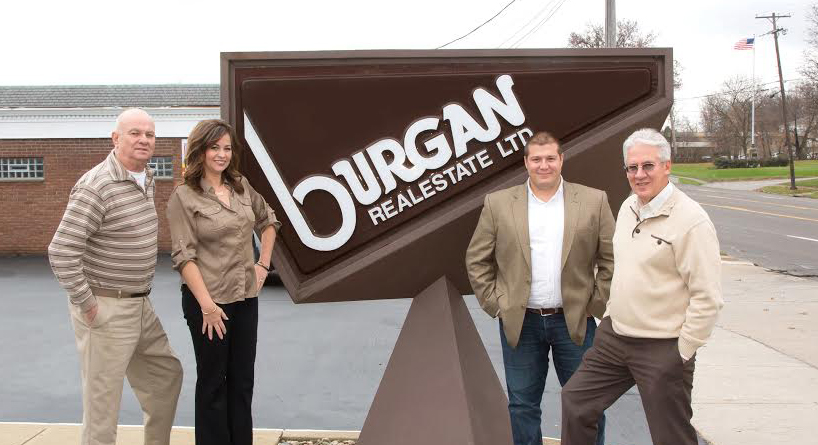 Burgan Real Estate, the Mahoning Valley's largest locally owned and operated real estate company, has been making life better for residents and the community for over 40 years. Founded in 1977 by John Burgan and Leon Turek, Burgan Real Estate has grown to be one of the area's most successful, independent brokerages by maintaining the highest standards of integrity, honesty, and transparency.
Now, second generation owners, Patrick Burgan and Sue Filipovich, lead the next group of Burgan Bunch agents and its Better with Burgan culture, emphasizing the same family mentality and principles the company was founded upon. The two have created a proven and unique approach to home buying and selling that has earned them the distinction of being the third largest real estate company based on market share in Mahoning County.
With over 40 agents, three offices (Boardman, Canfield and Liberty) and the first to hold the title of the Official Real Estate Partner of YSU Athletics, Burgan Real Estate focuses on not only delivering accountable real estate solutions for residents of the Mahoning Valley, but also in creating memorable experiences and supporting the local community by truly making everything we touch...well...better. Come see how buying or selling your home is Better with Burgan.
If you would like more information about our Trumbull and Mahoning County real estate firm, contact us today.
Testimonials
" Amazingly supportive- answered every question in detail and eased any worry that we may have had!! Thank you, Rachael!!! "
- Evan Caroline LaGruth
" We loved working with Jessica! We worked with Jessica in the sale of our home, her expertise and knowledge in real estate made the whole process very smooth and enjoyable. She was available with any questions or concerns during and after the sale. If you are either looking to buy or sell your home "
- Lauren G.
" She is amazing, always making her self available and gives the best advice... "
- Seth Eaton
" Rachael goes above and beyond in every aspect of home sales to make the entire process as painless as possible. In addition to being friendly and helpful, she is very knowledgeable. I highly recommend Rachael as a realtor! "
- RickKridler
" Very nice, personable and efficient. Met every single one of our needs. We've already recommended her to a couple of friends! She will go above and beyond to meet your needs. Will not pressure you into buying something you don't absolutely love. "
- taylorbakeremt
" We couldn't have chosen a better agent to help us get back to our home town. As the search was challenging it was Jessica who found our dream home. Always quick to respond, always helpful, educated us along the way and went above and beyond to make our process a simple one. If you're looking for someone to help you buy or sell your home call Jessica you'll be happy you did! "
- Misty P.
" Rachael is absolutely fantastic to work with! She always has a great attitude and goes above and beyond. She's the perfect agent and always does an amazing job. She's extremely knowledgeable with a great network and always has a smile! Rachael is someone you can always count on. "
- user8554070
" I love the house that she sold me! I wish she came with it!!! "
- Channing Cochran
" We looked at so many houses with Amanda. She never gave up in the search for our dream home. She was always on time and gave her professional opinion of the houses we looked at. She wanted us to find exactly what we wanted, and we did because of her! We were first time home buyers and she led us through the experience and explained every detail. i still have her contact info and she still helps me even after the purchase. Amazing experience and I would recommend her to anyone! "
- Caitlin Rose
" Rachael was so helpful. She helped find homes that fit exactly what we were looking for. She made the process much very easy. Rachael was able to answer any questions we had. She was able to get us any information we asked for that she did not have. Rachael is great at what she does and someone you would like to help you purchase or sell your home "
- KatlynDiddle
" One of the hardest working and most honest realtors I've ever met. When a previous realtor told me that my dream house was just a dream, Rachel Thomas made it a reality. She invested countless hours of hard work to achieve her clients (my) goals. She also made sure that the seller was just as happy about the deal as I was. If anyone is looking for a realtor who will not stop until all parties are satisfied, and is not satisfied until you receive the keys for your dream house than look no further than Rachel Thomas. "
- tandyman89
" Rachael was wonderful to work with. She sold our house right away & exceeded our expectations. She is extremely professional & passionate about real estate. I highly recommend her services to anyone living in the Youngstown area. "
- semcclure06
" Mandie is an excellent realtor and great person. Her selling strategies, professionalism, and hard work are impressive. She made recommendations but was not overbearing. Mandie understood my emotional decision to sell my parent's home, letting me decide how much to do in preparing for sale. Her accessibility was great for me selling from out of town. Mandie truly is a "Ninja" realtor. "
- Dan Hromyak
" If you are looking for a realtor that knows exactly what they are doing you need look no further. Amanda is knowledgeable, honest, and isn't afraid to ask questions and do her best to get the information you need through your home purchasing journey! She made our experience smooth and bearable. If you have ever bought a house you know how much that means! And if you don't, trust me, you don't want to find out! Thank you Mandie! "
- Lisa D
" Very knowledgeable, professional, highly motivated and driven. Made first time home buying fast and easy! Would recommend to other everyday. "
- Joe LaGruth
" Rachael sold our place in a short amount of time and got a great price for it! Communication was excellent and she knew her real estate. Moving across the country while your house is for sale can be nerve racking, however, Rachael always was in contact, and made us feel as if we were there. I would recommend her to anyone! "
- jjysuwin
" Being first time home buyers we had a million and one questions no mater what time of day it was she was always there to answer all of our questions and found us a house that is absolutely perfect for our family if you are in the market to buy or sell a home I would highly recommend Amanda Dillon "
- Laura Fay
" We can't say enough good things about Amanda. Amanda is passionate about her job, knowledgeable in all aspects of home buying, and made our entire process go so smoothly. We never had to worry about anything, she was always proactive and hands-on, every step of the way. We recommend her to family and friends and look forward to working with her in the future. "
- A.K.R
" If you are looking for a realtor that goes above and beyond for her clients Amanda is definitely the person to choose! She works extremely hard to make sure you are satisfied and takes extra time away from her personal life and family to be accessible to you when you need her! I would and will recommend her to everyone I know looking to buy or sell their home and will definitely utilize her services in the future! "
- Jen and Alex Bayer
" Great to work with! And will give you the best advice and work relentlessly to get you the best deal possible! I highly recommend!! "
- Mike Nizami
Previous
Next